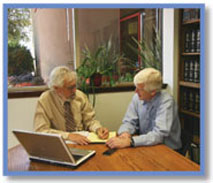 INDIVIDUALS,
TRUSTS, AND ESTATES
SMALL BUSINESS
NON-PROFIT
ORGANIZATIONS
Representative
Present/Past Clients

Business:
Aldo Ventures, Inc.
Center for Executive Solutions
Collective Leisure, Inc.
Ductus, Inc.
Griffith Stair Co., Inc.
MIcrosmith, Inc.
Mike Cobb Creative
Poulson Construction, Inc.
Raycon Industries
Searchlight

Non-Profit Organizations:
Alzheimers Disease and Related Disorders Assoc.
Community Skating, Inc.
(The Winter Lodge)
Ecumenical Hunger Program
Foothill / DeAnza Faculty Assoc.
Foundation for a College Education
Menlo Park Chamber of Commerce
Morrissey Compton
Educational Center, Inc.
Palo Alto Community Child Care
Palo Alto Recreation Foundation
Palo Alto Downtown Business & Professional Association
Peninsula School, Ltd.
Silicon Valley Association of Realtors
(partial list)
... serves individuals (including trusts and estates), small businesses, and non-profit organizations. We have extensive experience with people and businesses in transition, including start ups, mergers, stock options, retirement planning, and changes in marital status.
Individuals, trusts, and estates. From consulting on tax and estate issues to preparation and submission of Federal and State taxes, we provide a full range of accounting services for individuals and families, trusts, and estates Our full range of tax and accounting services for individuals, families, trusts, and estates include assistance and recommendations in the areas of:
Achieving maximum tax savings

... review and evaluation of individual circumstances and tax election alternatives.

Estate planning to maximize benefits

... through gifting, family trusts, and other mechanisms.

Income tax planning

... including efficient coordination of personal and business taxes.

Financial planning

... for effective overall personal financial management.
Our highly personalized services recognize and take into account specific individual situations and issues.
Small businesses. Our services to business organizations include accounting, audit, consulting, and tax compliance. We have a comprehensive knowledge and understanding of closely-held businesses, which benefits our clients through:
Improved financial analysis and presentation

... analytical review of company financial statements and assistance to management in evaluating business performance (profitability, liquidity, etc.).

Improved internal accounting controls

... evaluation of the effectiveness of internal control structures for safeguarding assets and ensuring accurate, reliable accounting information ... recommendations for improved or new controls and assistance with their implementation.

Improved communication

... facilitation of communication between the organization and its Board and other users of financial statements.

Improved accounting systems

... software evaluation, recommendations for optimum use of existing systems, and/or development and implementation of new systems.
We work very closely with our business clients to help them achieve the highest possible financial efficiency.
Non-profit organizations. Our extensive work with the unique requirements of non-profit organizations has given us significant expertise in and understanding of this specialized area of accounting. In addition to all of the services noted above that we provide for businesses, we assist non-profit organizations with:
Improved communications with the community served

... strong, focused financial statements, effectively presented, create significantly improved communication with board members, donors, fund raisers, and those being served by the organization.
Principal Jack Morton is a community leader whose first hand personal participation in non-profits has created a special insight of great value to our non-profit accountancy work.