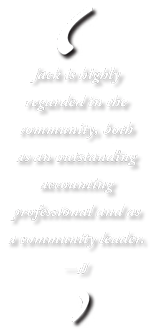 Jack Morton, Ph.D., CPA
Principal
Jack established Morton & Associates in 1980. A native of Canada, he received his BS from the University of Alberta, his MS from the University of Calgary, and his Ph.D. from the University of Toronto. Jack completed his American tax and accounting education at Golden Gate University, and taught preparatory courses for the CPA exam while building the firm. He has more than 30 years of experience providing personalized tax and accounting services. Jack is a member of the American Institute of Certified Public Accountants and the California Society of CPAs. A recognized expert in accounting for non-profit organizations, Jack's professional activities include or have included: Co-Chair of the Non-Profit Audit Committee of the Peninsula Chapter of the California Society of CPAs, and service as a Board Member of Community Skating Inc., the Palo Alto Recreation Foundation, and the Morrissey-Compton Educational Center. He has also served as a Board Member of the Palo Alto Chamber of Commerce and past Chairman of the United Way Audit Advisory Committee. Jack was a member of the Palo Alto City Council from 2002 to 2009, taking a frequent leadership role on the City Finance Committee, including two times as the Chair.
James Leone, CPA
IT Manager
James joined Morton & Associates in 1996 after receiving his Bachelor of Science degree from the University of Southern California. He is expert and specializes in computerized tax and audit enhancements that greatly improve and facilitate the process of meeting accounting reporting requirements. He also has extensive experience with non-profit organization requirements for exempt status, and for tax returns for not-for-profits and private foundations. James is very knowledgeable, experienced, and involved in the preparation and review of tax returns for individuals, partnerships, and corporations.
Chris Higgins, CPA
Audit & Tax Manager
Chris joined Morton & Associates in 2001 after receiving his Master of Science in Taxation from San Jose State University. He has extensive experience in helping clients meet compliance reporting requirements to various foundations, the United Way, and Federal, State, and County government agencies. Because he works with a number of different accounting systems, he is well equipped and able to help clients in resolving issues relating to the proper recording of complex accounting and tax transactions.
Tina Huang
Staff Accountant & Staff Auditor
Tina, the most recent staff member to join our firm, received her Bachelor of Science in Commerce with a concentration in Accounting from Santa Clara University in 2008. She brings a high level of energy, dedication, and enthusiasm to her work on a variety of audit and tax projects.
Karen Higgins
Office Manager
Karen joined Morton and Associates in 2005. She has attended accounting classes at Foothill College and De Anza College, and received her Notary Commission in June 2006. Karen provides helpful and friendly assistance and support to everyone who comes to the office or calls to ensure that we always meet our goal of responsive and exceptional client service. She also assists with tax preparation and bookkeeping.